This adorable sculpey polymer clay charm is easy to make and sure to look fabulous on your bookbag, around your neck, or maybe even on your friend.
What you need
Pliers,you often see me using a multifunction tool like this one.
Toothpick
Rolling pin, this one is excellent because it is easy to clean off any residue.
Roll out some Sculpey Polymer Clay
Start by cutting a two pieces of parchment that are a fairly decent size to roll your clay out between. You should need about a foot of parchment. Roll out a golf ball size amount of Sculpey. Place your sculpey between the two parchment pieces. Roll it out with your rolling pin until it is about ¼ inch thick. Make sure you are rolling on a stable, flat surface to ensure your sculpey is the proper thickness.
Cookie cutting time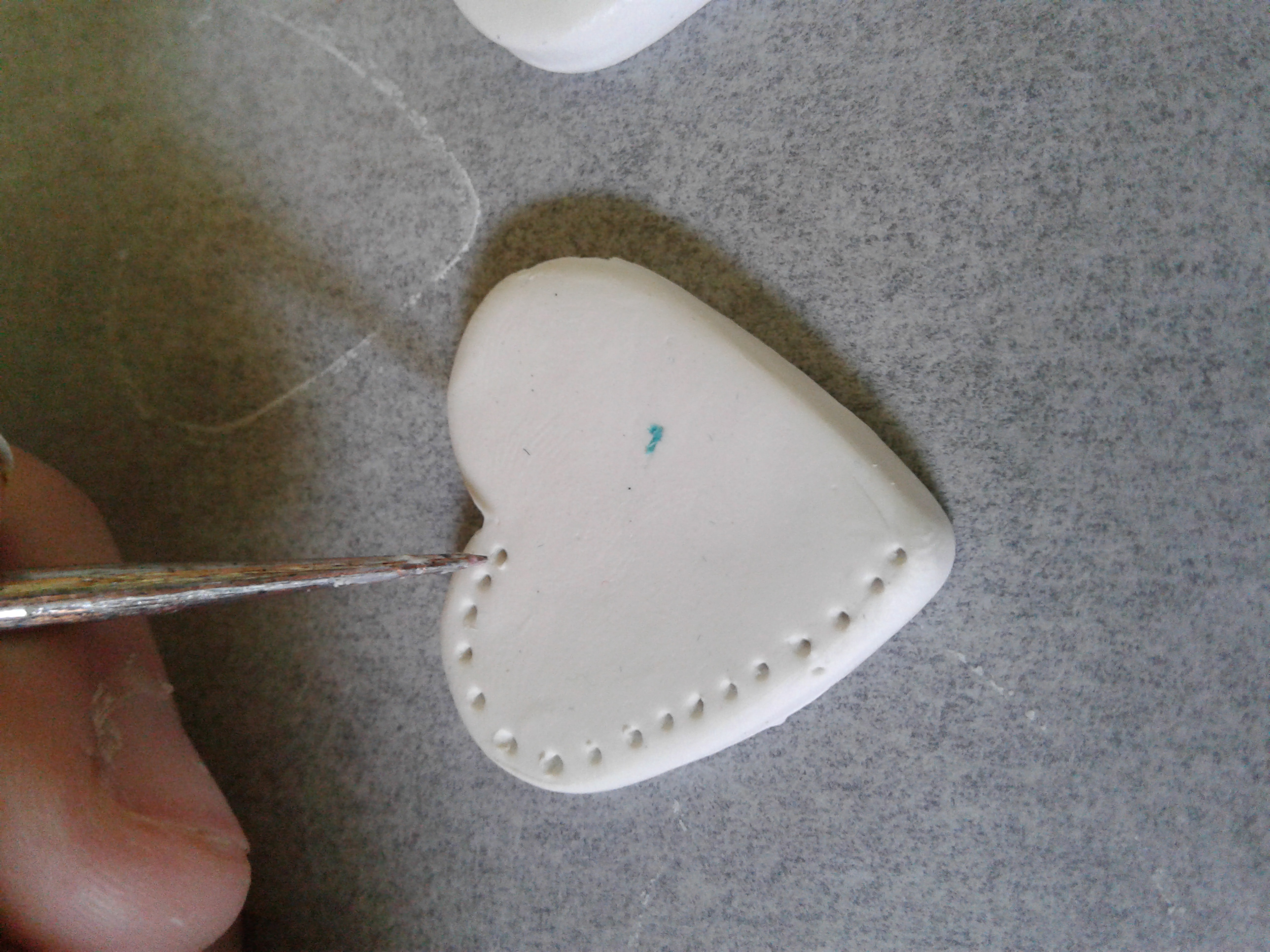 Use your cookie cutter to cut out two heart shapes from the clay. I used my finger to smooth the edges a bit for a cleaner appearance on the sides that will be facing out. You can always make little sprinkles and put them on the cookie halves. Just roll out clay thinly and cut it into little pieces. I poked the top heart with a toothpick to give it the texture on the edges.
Cutting your Wire to Make your Creation a Polymer Clay Charm
To make my little cookie a charm, I cut about an inch of wire off the roll and twisted it carefully. I held the spiked ends of the wire in the pliers and twisted it three or four times. I also bent the two ends out like an anchor, so it will not slip out of the clay once in.
Roll out your Icing for Your Sculpey Cookie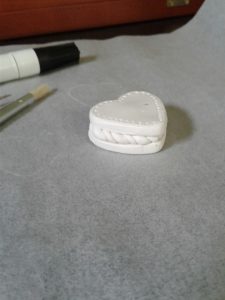 Just like you would with the sprinkles, roll out a piece of sculpey. However you will want to roll out your sculpey to about 1/8 thickness. After you have a long piece rolled out, double it up and see if you have enough to go all the way around the cookie with plenty of slack.

Twist it and wrap it around the edge of the bottom cookie. Start at the middle and wind out, and curl up the rest of the clay into the center. Press your wire piece into the middle of the heart into the extra icing and cover the base of the wire with the clay so it stays secure. Press your top cookie gently on top. Bake at 275 Fahrenheit for about half an hour.
Painting your Polymer Clay Cookie
After your sculpey polymer clay friend has cooled completely, you can finally paint it. I used nail polish for durability, because I am making it into a necklace. I recommend you use a fine brush with a fine nail polish brush which you can get here for the icing. Paint the icing first, it will be the hardest to paint. Make sure to get in all the gaps and allow it to fully dry. After the icing is dry, I painted the top and bottom cookies pink. I used a toothpick to make sure there is no polish in the holes on the front cookie. Once your two halves are dry, you can choose to add a face with sharpies, otherwise you are done. This sharpie set that you can obtain here should be enough for all your sharpie needs.