Most children play with stuffed animals, but there are not a lot of tutorials for making accessories for pretend play with stuffed animals. Most tutorials for pretend play are for dolls instead. Here, I'm making a sleeping bag for a medium-sized stuffed animal. Kids can pretend their stuffed animals are going to a sleep over and need a sleeping bag to join in the fun.
Supplies:
Needle
Plushie– this link is to my favorite plushy who is featured in this tutorial!
Measure Your Stuffed Animal
Start by getting your sweater, turning it inside out, and laying it flat down on a surface. Make sure it is one you do not particularly care about mutilating. Lay your plushie friend down on the sleeve. Mine had a cuff that can be folded down, if yours also has that do not include in your measurements if you would like to fold it down after your sleeping bag is made, or cut it off now. Move the plush first, we don't want a beheading here today. Mark about a half inch longer than the rear of the plush, including the tail.
Cut the Sleeping Bag Pieces
Move your little plush friend and use the scissors to carefully cut off the sleeve on the line you made with your sharpie. Try to cut as straight as possible. Even up the edge a bit if you struggled to cut the line exact. You may need supervision for this part if you are younger, as sewing scissors are very sharp and can hurt you quite easily.
Sew the Sleeping Bag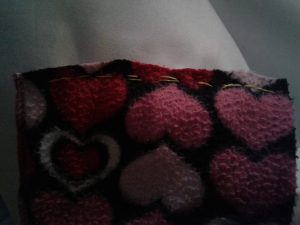 Get your needle threaded and knotted, then go to about a quarter of an inch from the edge that you just cut off and sew it closed. You may also need supervision for this bit too, do be very careful not to stab yourself with the needle! I recommend using a regular straight stitch, and then maybe whip-stitching the edge for reinforcement.
Finish Your Plushie's Sleeping Bag
After you are done sewing the edge, turn the small sleeping bag right side out and you are good to go! Slip your plushie in and he will be warm and secure. You can use the neckline or the base line to make a handle and turn it into a purse! Cut the neckline or the baseline off and in two pieces, then just sew both handles to the sides of the sleeping bag. The rest of your fabric could be used to make them a small blanket, which you make by cutting out a square big enough to wrap around them.