Finding the perfect video game console station can be really difficult. This started out as a ten dollar piece of furniture at goodwill with no hopes or dreams of the future. With a little spray paint and some love, this TV stand went from "Bleh" straight to fabulous.
What you will need
Old TV stand
Additional bits and pieces include HDMI cord and HDMI switch
Optional Sanding of the Video Game Station
If you bought cheap spray paint or the paint already on your old TV stand is chipping off, buff it with a rough sanding block to get the chunkiness off.
Optional Primer Coat
Again, if you are dealing with cheap spray paint or you have your doubts about the Tv stand being able to be painted well, spray it with some Bullseye primer in a spray can. It will make a huge difference, and will keep the paint from getting gross later.
Pulling the Back Panel off the Video Game Station
If your wheels are black and you like them that way, now is a great time to pull them off or cover them with tape to keep them from getting recolored. Pull out any staples on the back of the stand and pull off the back panel. Set it aside for now.
Spray Painting the Video Game Station First Coat
Now dig out your lovely can of spray paint and coat the entire stand thoroughly with spray paint. Don't spray too close or you will wind up with drips, which are hard to sand out. We pulled the shelves out to spray paint them individually, to keep things crisp and clean.
Applying Fabric to the Back Piece
While your paint is drying outside, it's time to cut your fabric to fit the back piece. Lay your back piece on the fabric and cut the fabric big enough to cover both sides. Glue it on with Krazy glue, not hot glue. Hot glue will give you a more lumpy look. "Wow, I love your lumpy and gross looking gaming stand!", Said nobody ever.
Adding the Second Coat of Spray Paint
After your back piece is done and drying, head back out to do another coat of paint on your TV stand. This is when you even out the coat and make it look solid white. If it doesn't want to behave, do a third coat.
Reattaching the Back Piece
Get out some glue, tacks, or a staple gun, and stick the back piece back to the back of the TV stand. Absolutely beautiful. Now stop touching it before the paint gets scratched before it's cured.
Letting it Dry
Move it inside or somewhere the morning dew will not settle on it, and don't touch it until the next morning. No fingerprints should be found on your nice, fresh Video Game Station.
Optional Clear Coat
Normally a clear coat is not needed over a furniture piece, but if you worry about chipping, you can apply a clear coat to make it shinier and help keep it from getting scratched as easily. It also provides a nice slick surface so it is easy to dust and keep clean.
Ajusting the Video Game Station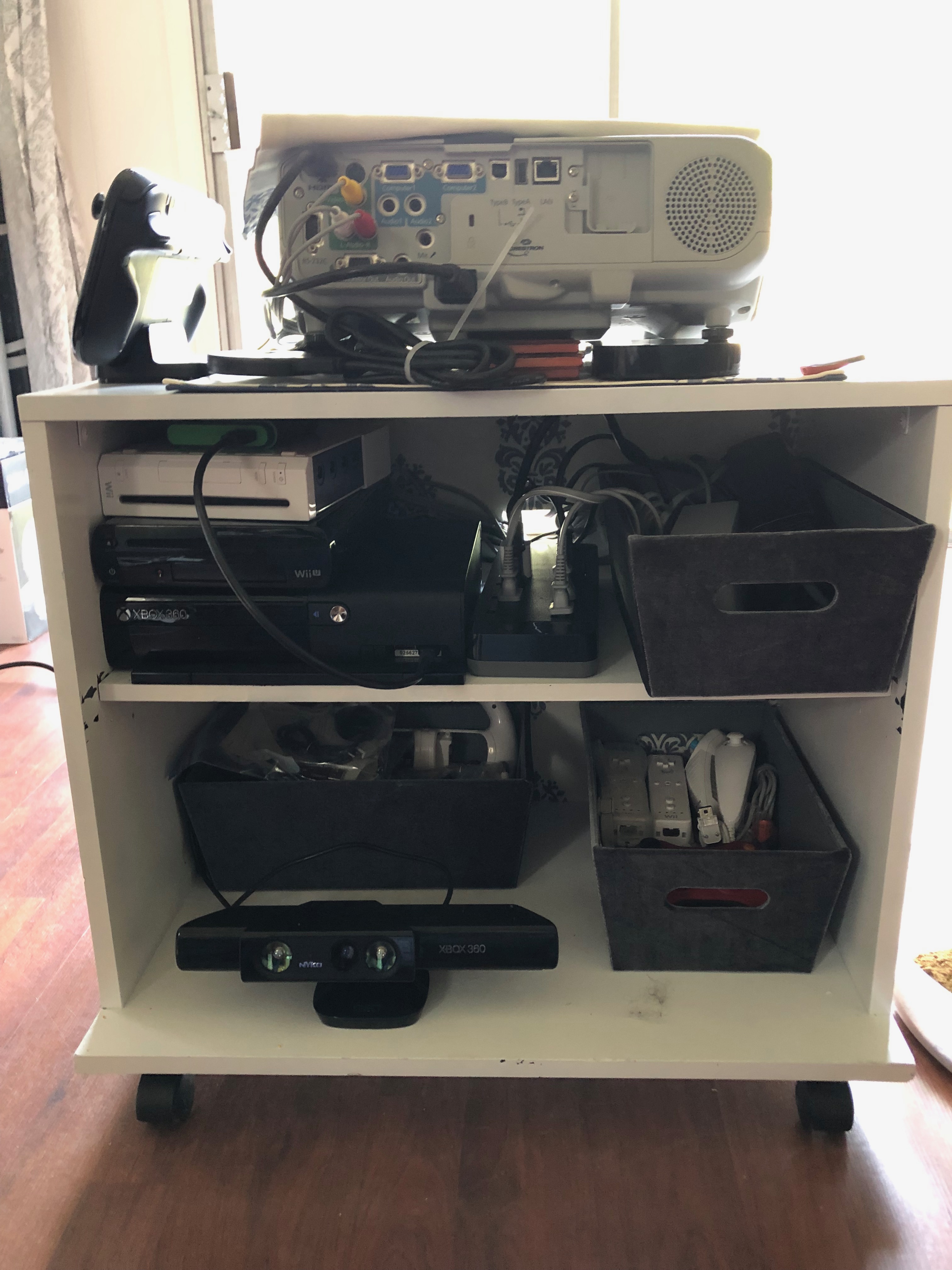 Add your consoles and projector or tv to the top of the stand, and hide the cords and remotes in pretty grey baskets. Additonally, to help control the cord mess, you can use an HDMI splitter to help condense the cords into a basket instead of a mess sticking out of your projector.
Finish
Now your consoles and systems are all fashionably and neatly stored. You are one step closer to getting your ducks in a row and your house clean as a whistle. Happy Crafting! If you enjoyed this craft, you may enjoy my post on Pallet coasters or Polymer Clay Sushi.