This awesome Doki Doki crate was advertised on Instagram last December and I thought it might be fun to try. This crate is full of wonderful cute kawaii things straight from Japan. The best part of this Doki Doki Crate is that there are no edibles, meaning those of us with food allergies can enjoy the full experience of the box.
Shipping and the Condition of the Doki Doki Crate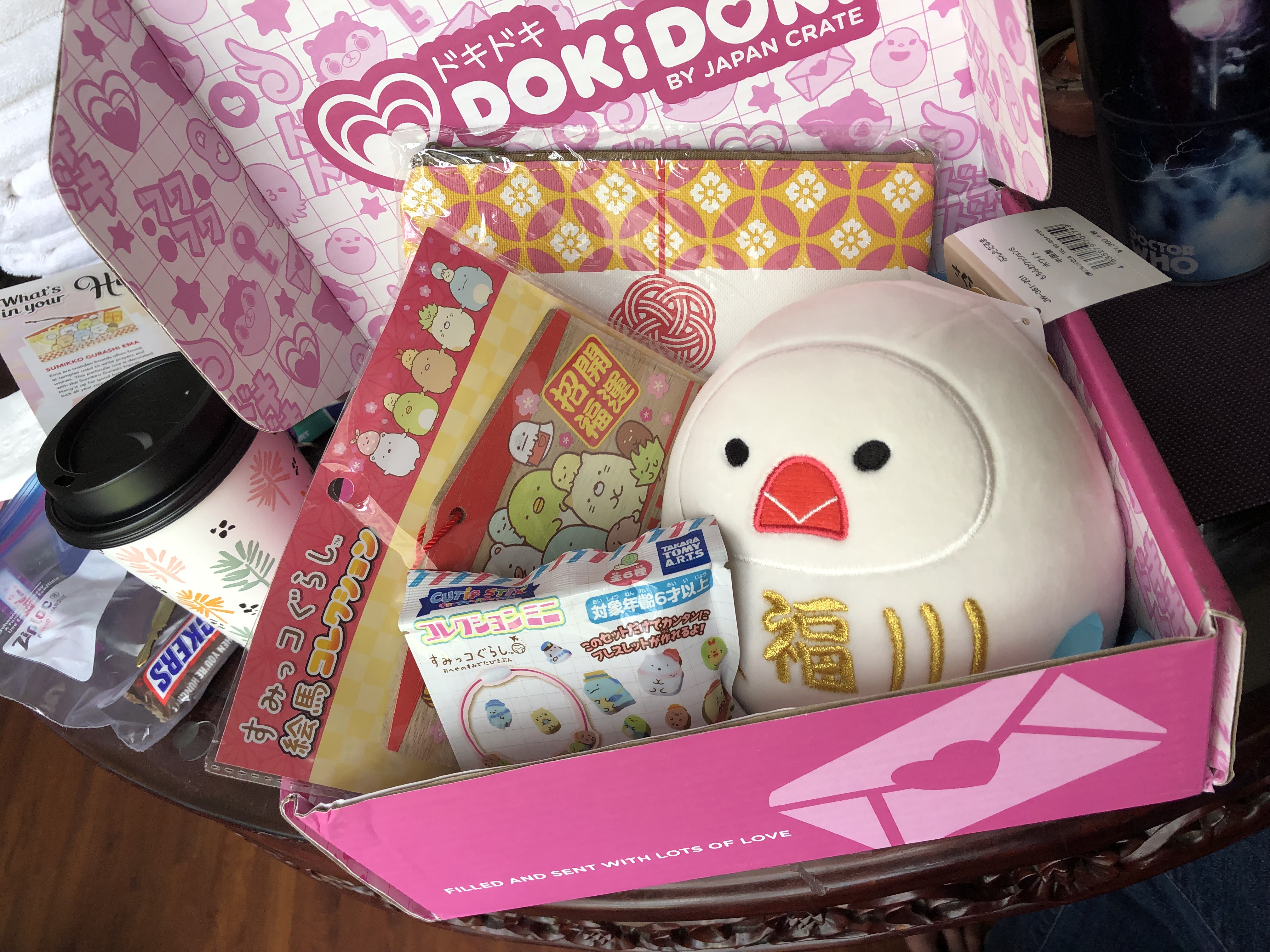 Alright, so first things first: Shipping took absolutely forever. My Doki Doki crate did not arrive until the week after Valentine's day, even though I ordered it on the last day of December. If you do choose to order this crate, make sure to give it about 6-8 weeks to actually get to you if you live in the US, as it has a very long trip to make to get to you. The box arrived to my mailbox a little dirty, but mostly undamaged. The Doki Doki box was very bright pink, with "Doki Doki" written on the top and adorable light pink kawaii designs on the inside of the box. It also came with a gorgeous colorful pamphlet about what's inside.
Sumikko Gurashi Eraser Bracelet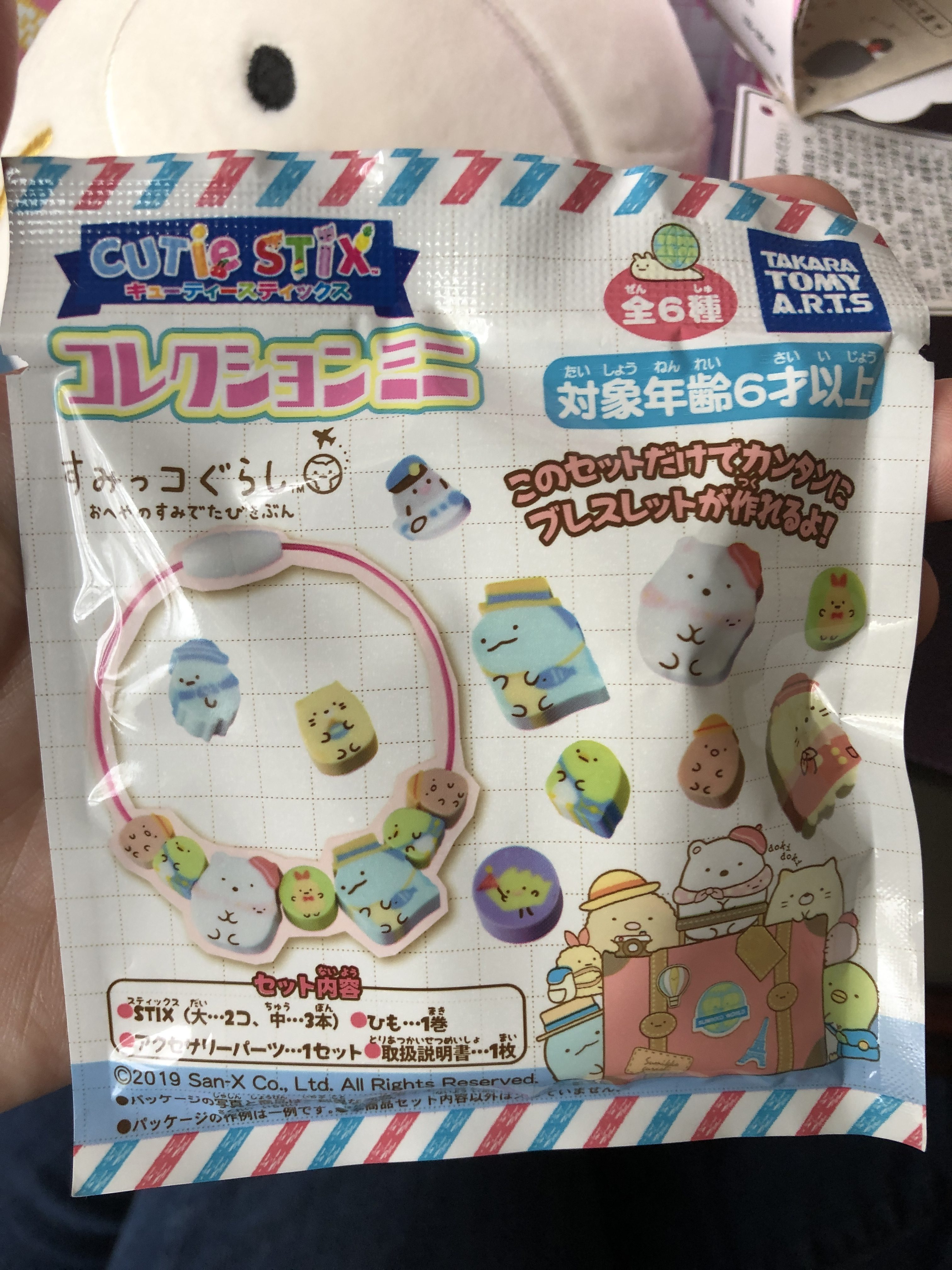 The first item I pulled out of this crate was a fun bracelet made of erasers. This is a sort of mini craft, meaning you have to cut the string and put the end caps and eraser beads on yourself. I enjoyed breaking the beads off the canes. Word to the wise– the elastic in the set is not very long and is quite brittle. My bracelet broke by the end of the day and the beads flew all over the room. I recommend using your own elastic if you choose to wear these little guys.
January Doki Doki Crate Sumikko Gurashi Ema
This wooden board with the Sumikko Gurashi characters on it is called an Ema. Ema are generally found in temples and are used to write well wishes and prayers. This Ema, however, is designed to bring good fortune in the new year once it is hung. The paint quality of this Ema is very clean, with no defects in sight.
Limited Edition Pikachu Girly Mug
This adorable little Pikachu mug was included in this box because it is the year of the Rat. With a pink rim, pink band around the bottom, a chubby Pikachu and a Pikachu inside the cup, this teacup is wonderful for a good cup of tea or hot cocoa. It arrived very well packed in a gorgeous pink box and arrived completely scratch free with no paint defects. The packaging inside the box consisted of just a piece of cardboard to hold the handle. With no plastic waste, this means there was no plastic to end up in the landfill. Yay!
Otoshidama Pouch
This Otishidama Pouch looks like the envelopes that parents give to their children on the New year with money inside. The parents give the children these envelopes to teach their child to save money. The pouch is a decent quality and came in a plastic bag to keep it from getting dusty.
Doki Doki Daruma Plush
This plush was my absolute favorite thing out of the whole box. Daruma are a symbol of perseverance and good luck throughout the whole year. Daruma typically have blank eyes, so you set a goal and color one eye and color the other eye after you meet your goal. These Daruma are special though, because they are little animals. This Daruma's favorite hobby is sleeping and his tag says "Fluffy Mochi". I love this little guy so much, he's a good size and amazing quality. He feels almost like a "Squishmallow".
Is the Doki Doki Crate Worth it?
This crate is priced at thirty five dollars a month and knowing the crate will arrive a bit later than expected, the choice is up to you if it is worth the price point. This box made me absolutely squeal with happiness when it arrived, but not everyone will enjoy it as much as I did. Personally, I cannot wait for the next one to get here so I can review it too. Good Luck and Happy Crafting!