Watercolors are fun to play with, but sometimes they can be a little uncooperative or not vibrant enough. Here is how to make a watercolor set of your own- that fits in a Altoid's tin.
What you will need
Exacto or very sharp knife
Step 1: Setting up a workspace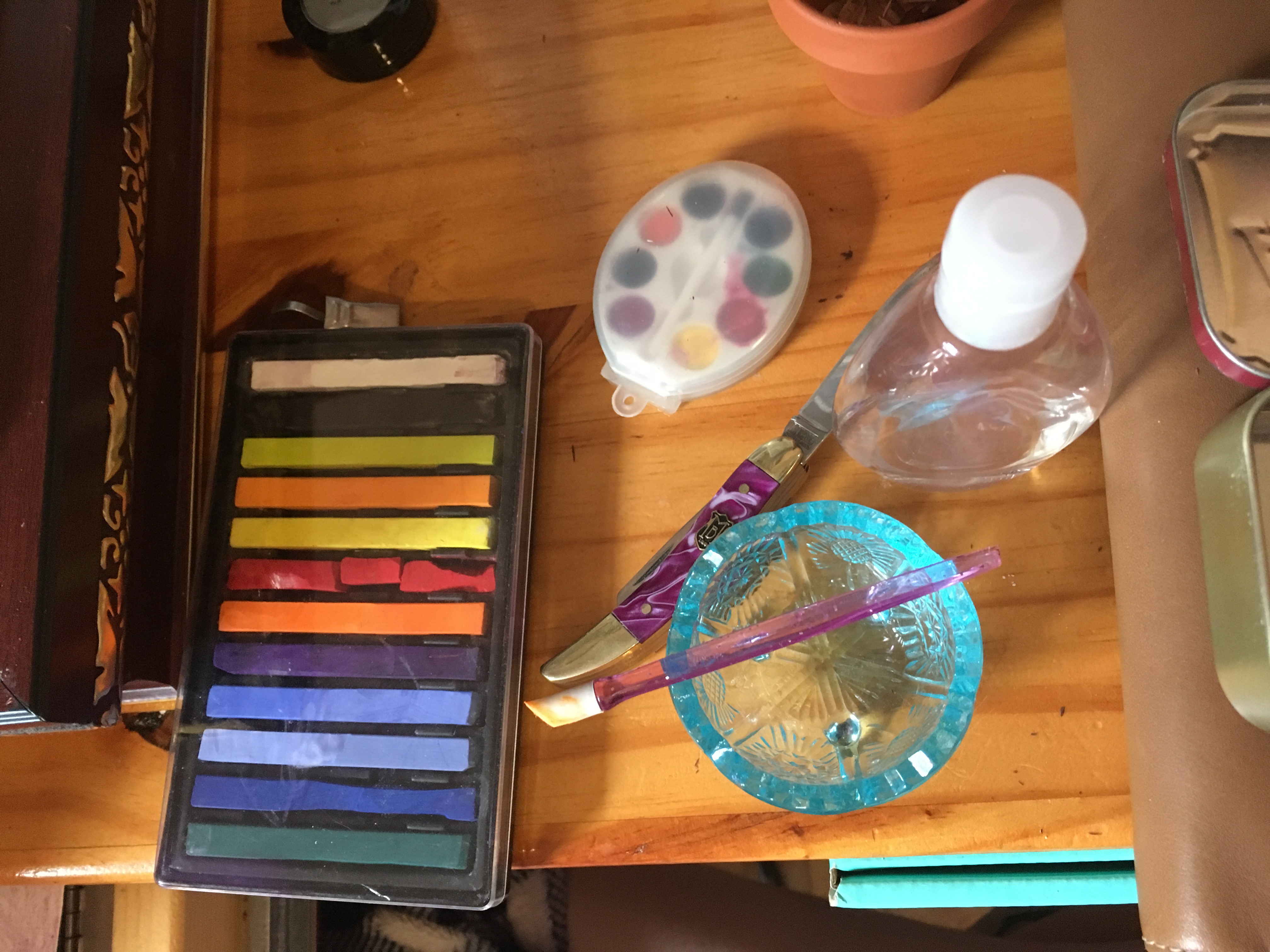 This craft is very fun but also extremely messy. It is recommended to make your watercolors outside, however if that is not an option, cover the work desk with newspaper and wear gloves if possible, if not the alcohol will take care of pastel left on hands.
Step 2: Filling a tiny Bowl with Rubbing Alcohol
Use the dropper to put several drops of rubbing alcohol into a very small bowl. This will be the cleanup bowl to dip hands into, to ensure colors do not mix.
Step 3: Starting with the lightest Pastel to Make Into a Watercolor Palette
Always start with yellow or very light blue, to avoid contamination of colors ruining the pigment.
Step 4: Shredding the pastel to powder
Using a sharp blade, scrape the knife against the pastel to get dust. The dust will collect in a pile, and that needs to be added into one of the unused and clean lip balm caps. Be careful not to add too much, or there will be no room for the next step.
Step 5: Adding the Alcohol
Add rubbing alcohol one drop at a time, mixing it well into the powder. This will ensure the powder does not get too soaked and take forever to dry out.
Step 6: Why to use Rubbing Alcohol instead of Water
For some reason, pastel and water does not like to mix. The alcohol instantly wets the pastel powder and soaks in well. I found this out the hard way… oops.
Step 7: Squishing the Watercolor mix into the Chapstick Cap
After enough water is added to make a sort of dry muddy texture, pack it together inside the cap snugly. Allow to set for about two days, and the color will be ready to use. Allow the watercolor to dry in an air conditioned space away from humidity.
Step 8: Repeating for all the Colors
Repeat this process for every single color, and set them all out to dry in a container. Do not touch or use for 48 hours.
Step 9: Cleaning out the EOS Container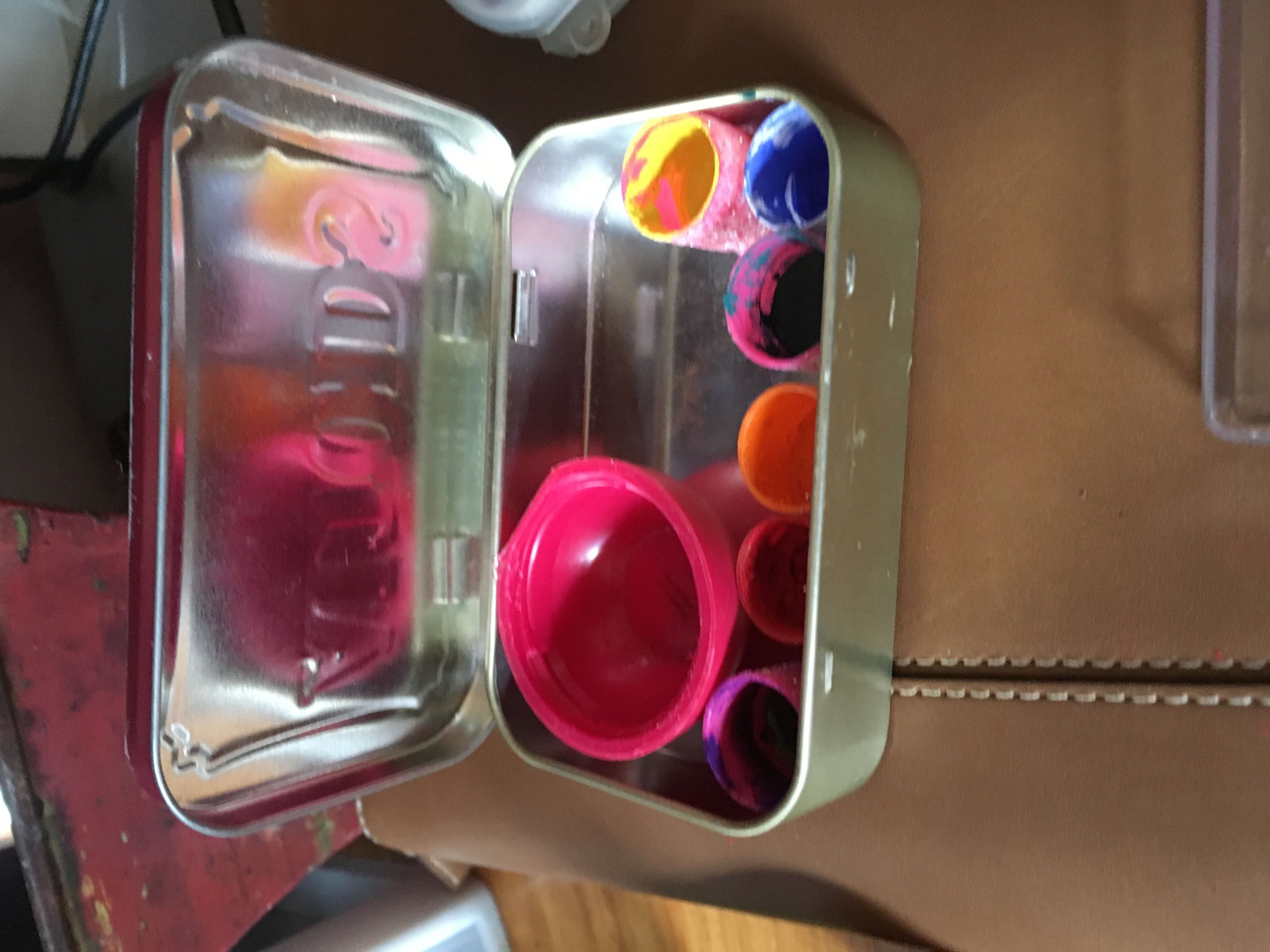 While you are waiting, scrape and wash out the EOS container. Have a sturdy and durable knife handy, in case it tries anything shifty during the cleaning process.
How to take the EOS Apart
Next, pretend the EOS is guilty of a crime and dig the knife into the inside of the bottom part of the EOS, under the part that looks like an asterisk. After a bit of prying, it will come out. Be careful not to get hurt, as this part is dangerous and probably best performed with a pair of pliers.
Arranging the kit in the Altoid's Tin
Putting the now asterisk free bottom half of the EOS in the tin for the water, arrange all the little paints around it. Three on each side and one on the bottom. You can glue them for a more mobile solution, however it will make the paint water harder to dump out.
Finish
And you are done. This tiny watercolor pastel palette is perfect for painting little rainbows or foxes or galaxies, whatever you would like. Happy crafting!